Metal Maze Puzzles
2nd March 2014
I'm pleased to report that Mazelog now has a monthly prize, provided by Serious Puzzles who have agreed to sponsor the competition for the next few months. Serious Puzzles is an on-line store based in the USA with an extensive range of wire, wooden, metal, Rubik's Cube, and jigsaw puzzles.

Here's a brief review of several metal and cast puzzles they sell that will especially appeal to maze enthusiasts. I'm hoping to offer some of these as prizes over the next few months:
Medallion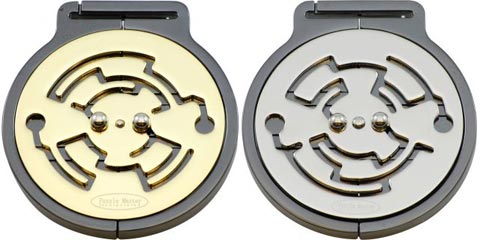 The Hanayama Medallion puzzle consists of two mazes, one on each side. The aim is to separate the two halves of the puzzle, which involves solving both mazes simultaneously. It has a heavy, solid feel about it and is very satisfying to solve.
It was designed by the prolific Dutch puzzle inventor Oskar van Deventer and is available from Serious Puzzles here: Medallion - Cast Puzzle
Oskar's Maze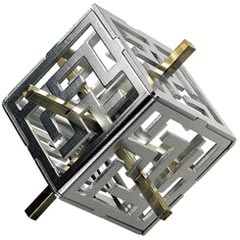 Oskar's Maze consists of a metal cube with a different maze cut out of each face, and the aim is to navigate the metal star through the mazes. It was also invented by the Dutch puzzle designer Oskar van Deventer.
It's available from Serious Puzzles here: Oscar's Maze - Metallic Maze
L'Oeuf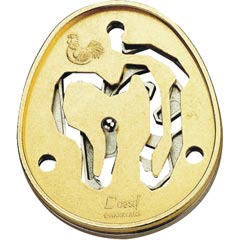 L'Oeuf (The Egg) consists of two egg-shaped metal discs, one gold and one silver, with a different maze cut into each disc. The aim of the puzzle is to navigate a stud simultaneously through each maze. At the end of each maze is a hole which allows the stud to come out, and you can then separate the discs. Although the mazes look quite short it's actually harder than it looks, and you have to backtrack to solve it.
Again, this puzzle was invented by Oskar van Deventer, and it gained prize-winning honours at the 2nd Annual Puzzle Design Competition in Antwerp. It's manufactured by Hanayama and is available from Serious Puzzles here: L'Oeuf - Cast Puzzle
Laby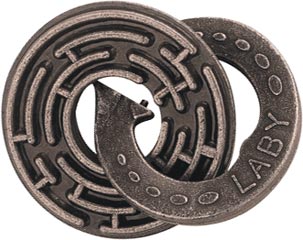 Named Laby after the labyrinth on each side, this Hanayama puzzle consists of two heavy pieces: a disc with a maze cut into each face, and a horseshoe-shaped piece with two studs that can slot into the mazes. The aim is to separate the pieces by navigating through the mazes simultaneously.
It was designed by the Japanese puzzle inventor Nobuyuki Yoshigahara in 1996, and is manufactured by Hanayama. It's available from Serious puzzles here: Laby - Cast Puzzle
---
blog comments powered by

Disqus